Why do our clients choose us?
We are professionals proficient in both business and technology.
We lead our clients to success as the best technology partner by being deeply involved, providing services, and taking responsibility in all phases and full business cycle coverage from strategic consulting, design, development to operation and maintenance.
Our approach, what we call the "Simplex Way", is widely favored by our clients whose key strategies involve Digital Transformation (DX) into their business operations. Each of our professionals, working together as one unified team, plays a crucial role in business and technology.
We build long-term partnerships with our clients and lead them to success.
Our business and technology professionals provide thought-through solutions using strategic consulting. Furthermore, because the same team of professionals takes responsibility all the way down to maintaining the technology solutions, our subsequent proposals to enhance the solutions capture the real essence of our clients' business needs so they can catch up with, or even be ahead of business environment changes.
We believe that our consistent implementation of the Simplex Way is an absolute necessity for us to be the best technology partner to our clients. Following the Simplex Way means our highly skilled professionals commit to a long-term support for the system that they deploy, and we stand right by our clients to assist them in making mission critical business decisions.
Full project cycle coverage from top to bottom level.
We take responsibility in all phases.
In domestic IT market, we still see the common practice of multi-layered project undertaking. That is, large system integrators undertake primary contracts from clients, and the actual development and maintenance phases are outsourced to subcontractors. We don't see a success story in this picture when clients are trying to be at the forefront of DX. We believe the post-deployment phases should be monitored very carefully so as not to miss new business opportunities. Unfortunately, here in Japan, post-deployment phases are outsourced to subcontractors (or even sub-subcontractors) who do not have business expertise.
Since our inception, we have been changing the industry landscape. In order to do so, we are always in touch with actual users, and undertake projects directly from our clients. We don't unload projects to subcontractors. We maintain total control over the whole development and maintenance phases, and our team of professionals involved in the development take responsibility for maintaining and enhancing the solutions. We are one of few companies that do not outsource those phases while undertaking projects budgeted over 10 million US Dollars.
We provide value-added propositions and solutions because we are professionals with a wealth of knowledge, experience, and expertise.
We've heard many of our potential clients, before they hired us, say "We contacted a consulting firm, but they would not commit to the actual development projects", and "We've been using a development firm, but they don't have business expertise, and haven't given us a decent proposal". They see us as IT professionals with expertise in a wide range of business domains. We lead our clients to their goals, with optimal solutions for their business strategy.
The fact that we retain IP on the solutions that we've built proves that our experts are capable. Because we retain most common parts in our software library, we can use them again for 50~70% of new developments. This results in saving development time, as well as in gaining system stability. Having our IP as a base, our highly skilled engineers can focus more on implementing mission-critical and high value-added solutions for our clients' businesses.
Service Menu
We provide our solutions throughout the clients' full business cycle coverage. We are responsible in each and every phase of strategic consulting, design, development, operation and maintenance of our clients' business. The in-depth and thorough work of our professionals in both business and technology lead our clients' business to success.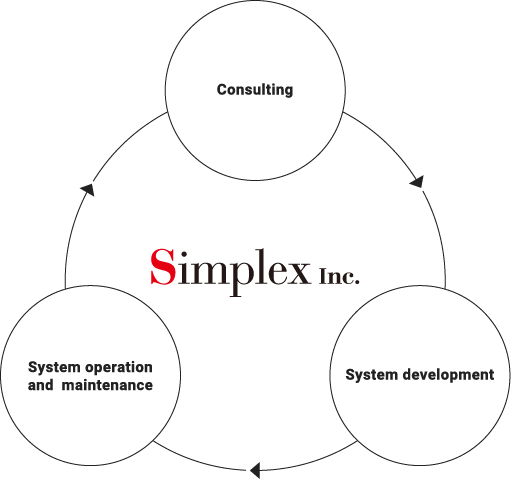 Strategic/DX Consulting

We collaborate with Xspear Consulting, Inc., our subsidiary dedicated to consulting services, to deliver strategic proposals and tactical support based on the latest technology stack, such as AI, IoT, Blockchain, RPA, UI/UX design, and Cloud. We customize strategic consulting services to fit various office levels from C-level to business planning divisions. The services include forming management strategy, business strategy formation, organizational reform, and business process transformation.

Systems Consulting

Our professionals are proficient in both business and technology, and work closely with our clients to develop and support strategic IT planning and systems specifications from a management perspective. We look at the overall scope of the systems deployment from the clients' business perspective, and at the same time, consider how the system can be refined later after the system is deployed. We believe our value propositions are in taking the initiative and providing leadership as IT professionals dedicated to our clients.
Systems Development​

In our Systems Development service, the team of professionals involved in the systems consulting phase will continue to oversee the actual development. When appropriate, we use our and industry-proven library of software built in-house which we keep improving over time in order to optimize the development cycle, and at the same time, we secure the robustness and stability of the resulting system. With this efficiency, our professionals can focus their talents on developing key features that give our clients competitive advantages and high value-added solutions.
Operation and Maintenance

Our teams always have long-term partnership with our clients in mind. Not only are they involved from the consulting phase to the development phase, but they also monitor the system 24 hours a day 365 days a year standing by in case system troubles occur. Because each team has a good understanding of the clients' business, having worked on the earlier phases, they can conduct constructive tasks during the maintenance phase. For example, they can perform business fit/gap analysis, review business strategy, and prepare system improvement proposals. We provide these services proactively because they are key to success in DX projects.

Shared Service/SaaS*

We provide SaaS services for a wide range of clients. These services run on systems that we have built ourselves over the years based on accumulated expertise and experience in respective industries. Our SaaS services are hosted by cutting-edge IT and mainly support the financial industry. However, because they are so cutting edge, our SaaS services are also favored by non-financial firms wanting to enter financial services for their client base, as well as by financial institutions wanting to provide added financial services. * SaaS: Software as a Service
Organization Affiliations
We are a member of many business associations aiming to lead and promote technology and its social implementation.
Partnership
We work with partner firms in a wide range of industries in order to improve our capabilities.
Awards / Certifications
The Financial Industry has always been an early adopter of advanced technology. Our track records of winning awards in the industry is proof that we are leaders in the Financial IT industry.
Capabilities
We have honed our financial expertise by building robust mission-critical systems that support the core businesses of our client financial institutions, and by producing financial service development that brings new user experience. Our ability to propose business strategies, and to utilize the most advanced technology available for our clients establishes our reliability as the technology partner in the DX of many industries.
Solutions by industry
We assist leading firms in many industries, including the public sector and financial institutions, to promote the DX of their business processes.